All our fresh meat cuts are sourced from local producers we know and trust. Our focus is on sustainably and ethically reared animals, using heritage breeds when we can. To learn more about the excellent producers we work with, see our Producers page.
We have a dry-ageing program for many of our prime beef cuts, ageing these cuts up to 12 weeks to increase their flavour and enhance their texture. This time-honoured technique has been practiced by the best butchers for centuries. For us, these cuts represent the pinnacle of beef cookery in both flavour and texture. 
Our focus is firmly on working with whole animals, allowing us the opportunity to create excellent charcuterie products (see below), while our range of house-made sausages include a variety of flavours to complement the fresh pork, lamb and beef.
If you are looking for something special, please don't hesitate to give us a call on 4938 1435 and we can work to source it for you in advance.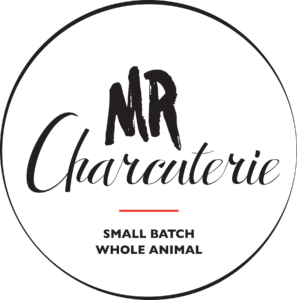 At Hungerford Meat Co, we produce all our own charcuterie – with everything we produce made from free-range pigs. We are proud to be one of very few charcuterie producers in the country working this way. 
Harking to back the origins of charcuterie, our focus is firmly on using the whole animal and on making small batch charcuterie. As in the European tradition, each season we work with the farmer to fatten up a pig or two for our platinum range. 
All our charcuterie is then salted, while the ageing process is naturally slow-fermented, using nothing to speed the process up. Most of our products, particularly those using whole muscles, are produced nitrite free. 
Our smokehouse range is also created using free-range, heritage breed pigs.
Charcuterie: 
Cullatelo – from the muscles in the rear leg, this is made in a similar manner to prosciutto.
Prosciutto – made using the whole pork leg, salt cured and hung for a minimum 18 months.
Capocollo – from the Italian capo (head) collo (neck) this is air-cured neck and shoulder of a pig, seasoned with white or red wine and herbs and spices before curing – awarded Gold Sydney Royal Fine Food Show
Rumpetto – salt-cured and hung pork rump.
Lonza/Lomo – cured pork loin.
Wagyu Bresaola – awarded Silver at Sydney Royal Fine Food Show
These traditional pork products sit alongside our Wagyu bresaola (try our organic, grass-fed version, venison bresaola, duck ham and an emerging kangaroo charcuterie range).
Classic French-inspired pâtés and terrines:
Pâté de Campagne – awarded Bronze Sydney Royal Fine Food Show
Duck, Pistachio and Sherry Terrine 
Pasture-raised Chicken Liver Pâté* – awarded Gold Sydney Royal Fine Food Show
*made using Little Hill offal.
Black Pudding
Smokehouse: 
Triple Smoked Boneless Berkshire Leg Ham 
Berkshire Black Ham
Bone-in Leg Ham
Free Range Bacon
Malt and Honey Pork Jowl Bacon – awarded Bronze Sydney Royal Fine Food Show
Maple-cured Preservative-free Bacon
Wagyu Pastrami
Kranski
Last, but certainly not least, is our Branxton Beef Jerky. This is our grass-fed, nitrite-free Beef Jerky, all prepared on-site in Branxton, using grass-fed beef.